Texas Commercial Roofing
We deliver the best in commercial roofing systems
Within budget and on time — every time
Single ply roofing
Tomlin Roofing Professionals has certified professional installers of single ply roofing systems. The re-roofing market in Texas has become immersed in a variety of single ply products for flat roof systems. Tomlin Roofing will make a field assessment of your building and design a roofing assembly to protect your building for years to come. Our certified roofing systems have optional warranties of up to 20 years coverage.
Standing Seam Metal and sheetmetal
Standing seam metal roofing is an excellent accent or coverage for store fronts and awnings. It lasts a lifetime and adds a wonderful architecture to your building. Tomlin Roofing also has sheetmetal fabrication abilities to produce wall coverings, caps, gutters and downspouts for your building.
New construction
Tomlin Roofing Professionals work alongside some of the finest commercial roofing contractors in Texas to produce long-lasting roofing on your new construction project. We use state-of-the-art estimating programs to provide same-day estimates. Tomlin Roofing has been performing commercial roofing services for 18 years to the construction industry. Single ply roofing systems have taken over the market in waterproofing. Continuing education keeps our installation teams on the forefront of roofing applications and methods available in the market today.
Inspections & repairs
If you find your building in need of a roof repair or roofing inspection prior to a real estate transaction, Tomlin Roofing Professionals can help. We provide a comprehensive roofing report that addresses areas that need attention, as well as an estimate for any necessary roof repairs.
Recent Commercial Roofing Projects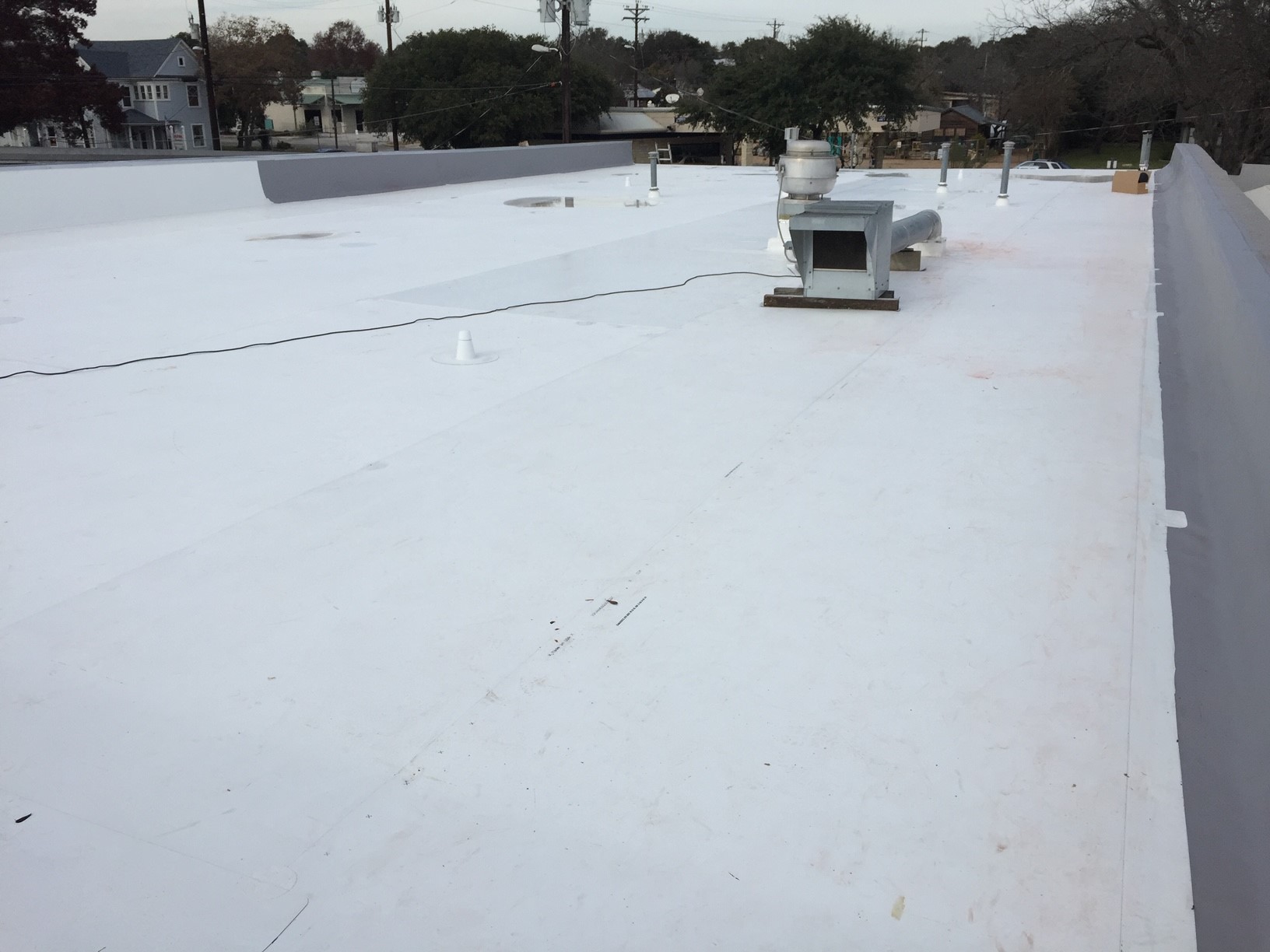 60 MIL TPO Roofing system, grey TPO installed in areas to reduce visibility of parapet walls, custom box gutters
Good-Life Pharmacy
San Antonio, TX
60 Mil - Verisco TPO roof system, wall panels and standing seam roof awnings
Shops at Cibolo Creek
Cibolo, TX
Corrected and improved rooftop and parapet wall conditions from poor workmanship of previous contractor
Pilot Flying J - Monahans
Pilot Travel centers - approximately 140 sqs of TPO installed over wood deck. Coping cap and sheet metal.
Wurzbach Suites
San Antonio, TX
New Boral tile, Versico 60 Mil TPO, 6" guttering
Flying J - Pilot Travel Centers
Kermit, TX
Fully Adhered TPO system with custom fabricated parapet cap flashings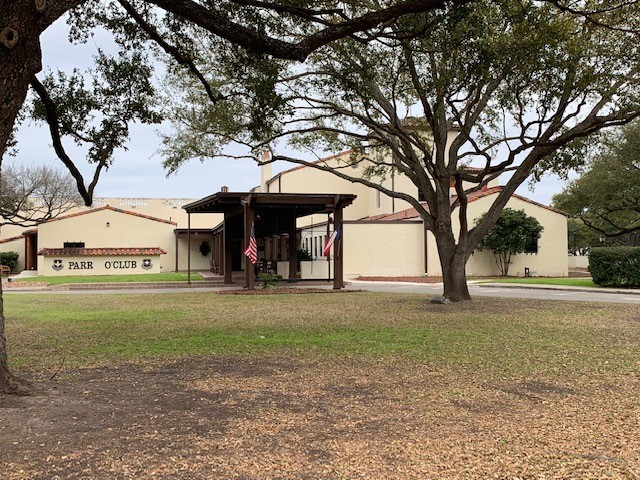 Custom box guttering, downspouts, and collector bases installed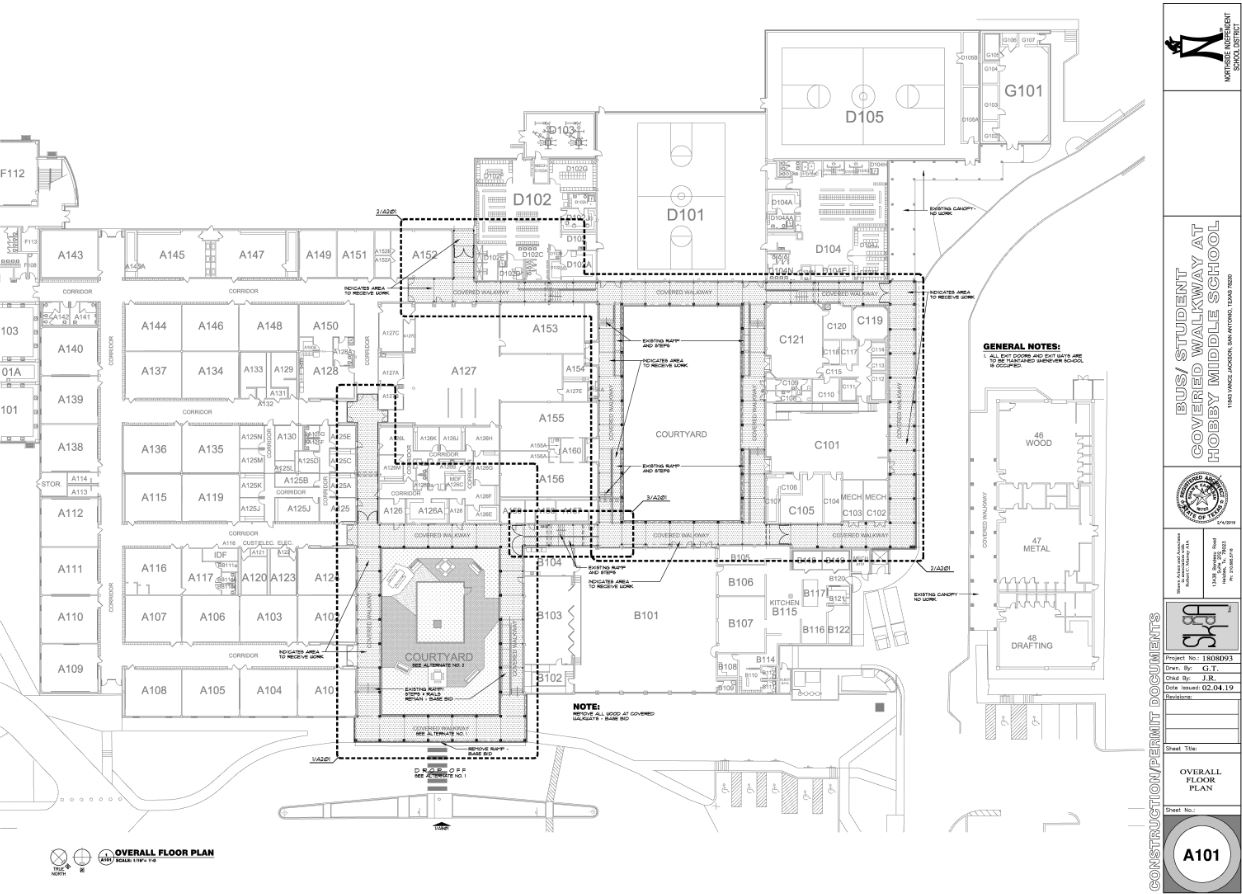 R-Panel roofing installation, soffit, and fascia
How to Choose the Right Commercial Roofing Contractor
A new roof system is a big expense — it's one of the largest exterior building components — and it is also one of the few building elements that is primarily built on-site and reliant on proper application for long-term success.
The roof system is constructed with a number of separate components — deck, insulation, membrane, and flashings — that must interact with total synchronicity. Improper application of any of the components within the system contributes to premature failure. For this reason, the choosing a roofing contractor in South Texas is critical to the service life success of the system. Here are 10 tips for selecting a commercial roofing contractor for your specific situation.
1. Actual Cost
Cost is often the determining factor in choosing a roofing contractor. It remains one of the top considerations in the roof purchase process. In the traditional process a number of contractors are solicited to provide bid estimates for the completion of the work. In this scenario, the awarded contractor is selected based on lowest price. This format is often used in public bids — state, local, or federal government projects — where the rules stipulate the lowest bidder must be awarded the project unless there is cause to disqualify the bid.
The drawbacks to the process are inequality of bidders, inequality of materials and systems bid, and the reality that the low-bidder may have made a mistake in the bid process that could ultimately jeopardize the quality of work. If the contractor made a mistake in the bid, the firm may try to cut corners to avoid losing money on the job. In that scenario, the contractors' mistake will end up costing the building owner and facility manager in the long run.
As a best practice, the only time that price should be the ultimate consideration is when you have equally qualified contractors bidding on the same materials, system, and application procedures. You should also qualify the low contractors' price to ensure that they did not miss anything in the bid process.
2. Scope of work
There is a plethora of roof materials and systems available on the low-slope commercial market. There are also different application methods — recover or replacement — that will have an impact on the project cost. It is best to provide a scope of work (preferably design specifications) that includes materials, systems, and application methods to ensure the contractors are bidding equally.
If a scope of work cannot be provided, make certain that the commercial roof estimates include a detailed scope of work including materials, systems, and application procedures. The goal is to compare "apples to apples." Request a proposed schedule with the bid estimate that includes estimated start time and estimated project duration. The schedule may become a top consideration if the low-bidder cannot start or complete the project based on your needs.
3. Insurance and Licensing
Any contractor working on your roof should have proper insurance, licensing and permitting documents available for your review. Without the appropriate documentation, you could face a major problem if an employees gets injured on your property. Verify your commercial roofing contractor carries city and state licensing, if applicable, and ask for copies. General Liability policies should also be presented, with the building owner's name represented on the policy.
4. Warranty and Certification
Tomlin Roofing carries warranty certifications from commercial roofing manufacturer's that offer warranty periods up to 30 years on materials and labor. Our experienced installers have been through certification courses to ensure the installation techniques used are the highest quality. When installing commercial grade roofing, we follow a series of specifications outlined by the manufacturer. Following these specifications allows the manufacturer to warranty or "insure" the installations for periods from 10 years to 30 years.
5. Job site operations
A commercial roofing project has many on-site variables. From pedestrian traffic, to parking and material staging, the task at hand is greater than just replacing a roof. When Tomlin Roofing installs commercial roofing, you can rest assured knowing you have a foreman on-site at all times. OSHA safety standards and regulations are an important part of our work process, and we adhere to these standards on every job.