Buying a new roof is a serious investment, which is why it's smart to take the time to understand the different options available to you as a homeowner. Metal roofing is the fastest growing product for residential homes. In this article we will take a look at some of the major factors behind the rise of residential metal roofing, and also break down the pros and cons so that you can decide if it's the right choice for your home.
Metal Roofs that Look Like Shingles, Tiles, and Slate
Metal roofing products have come a long way, you would be surprised by the different designs and color options that are available.
There are definitely huge benefits if the price point doesn't scare you, the fact that you can recycle the material is huge. Performance characteristics of metal shingles and metal tiles make these roofs an eco-friendly roofing solution with one of the top 'return on investment' values out there. Plus, it's extremely durable and the natural properties of metal make for a great roof because of its superior resistance to many of the forces and factors that can lead to roof damage. From the clean look of vertical panels, to the allure of metal engineered to replicate high-end architectural roofing, great options exist for almost any budget. Need an example of what these metal systems look like? The company we obtain the material from has some great resources.>>> Check it out!
Here we have put together the advantages and disadvantages to help you make a decision on whether a metal roof would work for you.  This list is pretty broad in scope, so be sure to get detailed information on the particular products you are considering before making any final decisions.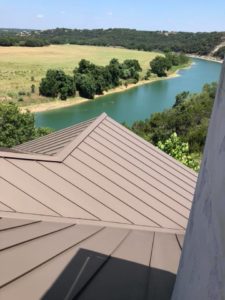 Advantages of Metal Roofing
Strength and durability:  Most metal roofs come with a fabulous warranty from the manufacturer which can last up to or exceed fifty years. Metal lasts quite a bit longer than most other roofing materials. Metal also offers the best ratings in the industry for wind resistance (up to 130 mph), impact resistance and fire resistance.
Attractiveness:  Today's choice of colors and designs offer options for almost any desired home style, including the likeness of traditional slate, tile and wood shake roofs.
Very little maintenance: Unlike other roofing materials, which can break, discolor, and disintegrate causing over time costly repairs, most metal roofing calls for little upkeep.
Energy efficiency & sustainability: Present day coatings and paint systems not only offer a more charming look; they also allow for awesome roof colors that reflect heat and helps keep a home more comfortable during the hotter months. Additionally, metal roofing products are often made with a percentage of recycled materials and can usually be recycled once removed.
Lightweight:  Metal roofing products are more light weight than other roofing materials like slate and clay which often require a decking assessment before installation.
Disadvantages of Metal Roofing
Initial Installed Cost:
While they are not as costly as wood shakes, tile, or slate, metal roofs do have a higher cost compared to more common shingles
. But, a metal roof does offer a longer lifespan.
So, if you're wondering whether it's cheaper to get a metal roof or a traditional roof, you may want to consider the long term
.
Lengthier install period: 
Some metal roofing systems are more complicated to install. The higher-end roofs can take twice as long for a professional roofer to install than an asphalt roof.  But, the amount of time needed for these metal roofs are comparable to roof types like wood shake and slate.
Proximity to salt water:
Metal is not immune to the corrosive effects of salt water and salt fog.
If you are considering installing a metal roof on a home near the ocean or salty water, check the manufacturer's warranty and be sure that you are in compliance with the warranty specs
.
A common recommendation is that metal roofing not
be used
within 1500 feet of saltwater, and most warranties will specify a distance that is safe
.
Limited availability of contractors:
There are less installers who
are skilled
at installing metal roofing than those who install the more common asphalt shingles
.
Also, finding an experienced metal roofer will make or break an installation, especially since all potential problems with metal roofing come from some kind of installer error
.
Rest assured,
Tomlin Roofing Professionals
has the extensive knowledge needed to install metal roofs in the San Antonio, New Braunfels, Schertz, Cibolo and surrounding areas
.
While no roofing material is perfect for every job, it's easy to see why metal roofing is more popular than ever for residential use. Call us for a free estimate on a south Texas metal roof. 210-267-9400